Bridge Demolition Contractors in the US
When it comes to bridge design and construction, the standards vary —which presents unique challenges for bridge demolition. This is why an initial assessment of the structure is essential. At PDI we utilize Revit, a BIM (Building Information Modelling) software when necessary. Through the use of BIM we are able to model bridges and equipment to scale, and develop our demolition plan from there.
We also use STADD.Pro Structural Analysis and Designing Program which is an essential tool for our Engineering Department. By using the power of software and scanning equipment, we have the tools and the expertise to convert any existing structure into an engineering model for analysis, calculation, and 3D structural drawings. This data is then transformed to engineering models for further analysis and modification.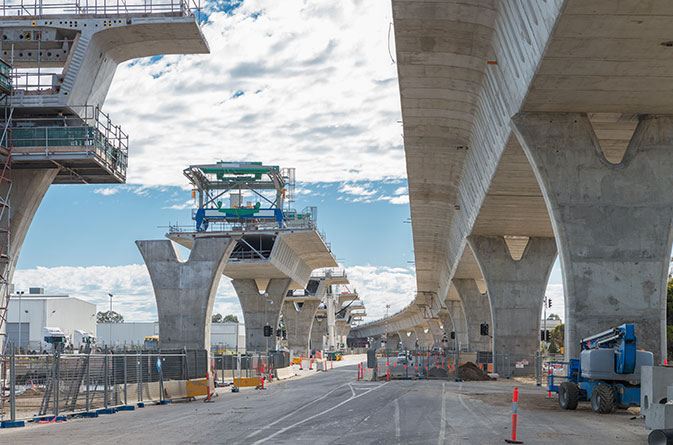 Whether old building standards and materials become obsolete, or the structure's integrity has been compromised, careful pre-assessment of the bridge helps to ensure our team has all of the information required to plan a safe and efficient demolition process. Environment considerations are also important, as some older bridges still contain lead paint and hazardous materials that require special procedures to safely remove and dispose of the material. These measures are in compliance with regulatory health and safety standards.
Priestly Demolition provides safe and efficient bridge demolition services across North America. We have completed hundreds of challenging projects in a variety of working conditions. We create effective plans to meet critical project schedules and use B2W Track and Primavera P6 software to monitor and track production in real-time, saving both time and money.

Dedicated to Safety & Quality
PDI is committed to continually improving the quality of our performance, ensuring we maintain the highest standards to protect the environment, the community, and our team. In addition to following all state and federal legislative policies, we have developed our own mandatory standards for job sites to ensure that we exceed our safety and quality commitments, and deliver exceptional bridge demolition services.
We have the experience necessary to pivot quickly to changing conditions, and troubleshoot unexpected situations and reduce delays and our mobile mechanics are onsite with us to look after mechanical issues that may arise. We understand planning is essential for success. We conduct a hazard analysis/mitigation plan for each bridge demotion which is shared with the team and followed during the deployment of the project. Each of our team members, from managers to the crew, understand that they share the responsibility of creating a safe workspace.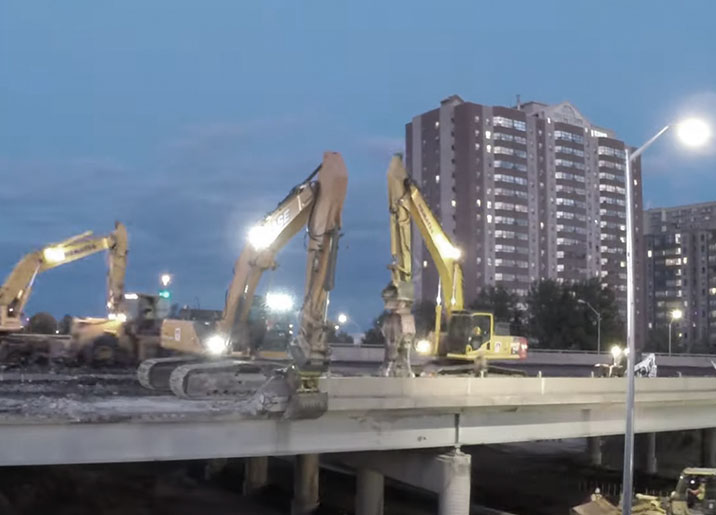 PDI is an industry leader in environmental best practices, with a commitment to environmental stewardship. We believe in exploring remediation techniques that improve our demolition and clean-up processes. Our team devises innovative ways to protect the environment and reduce the impact our work has on the local ecosystem.
Our most recent and innovative projects include:
Interstate Highway 66: 19 full bridge demolitions and 13 partial removals were required for the completion of Interstate Highway 66 in Virginia. This project required multi-lane expansions on both sides of the interstate, leading from Virginia to Washington, with major interchange improvements. It included over 4,000 new park and ride spaces, and a corridor-wide shared-use path. However, one of the biggest challenges was the varied bridge conditions throughout this stretch, with each requiring detailed assessment and special strategies to ensure efficient, safe removal.
Gardiner Expressway Eastbound Ramp: This challenging rapid demolition project required exceptional planning and coordination from our entire team. We were able to overcome several unique challenges, including clearing debris for Monday morning traffic, competing with neighbouring construction projects that limited storage for our heavy equipment and waste materials, use of boats on the waterway below, meeting an aggressive five-weekend schedule with 24-hour operation and eco-friendly operations to avoid environmental concerns related to the nearby Keating Channel.
Port Bruce Bridge: Floodwaters damaged all three spans of the bridge, leaving debris in the riverbed and presenting a serious safety issue. However, the main challenge with this project was that the bridge spanned an environmentally sensitive river in the early days of spawning season. This scenario required our team to restore the bridge and river as soon as possible. Our crew installed a special silk curtain around the waterside to limit sediment spreading downstream, and both the project and spawning were completed successfully.
Bridge Demolition Projects