Demolition Technology & Innovation
We Demolish the Norms of Demolition
In today's construction landscape, it's not just about demolishing a building anymore–it's about considering the complete life cycle of the structure. With the use of technology, PDI trained experts can now dive deeper into the logistics of many different types of projects, helping to ensure clients are getting dollar-for-dollar results. With real-time production values and cross-platform technology, PDI can stay on target, improve efficiency, and adjust as needed, helping to identify sustainable opportunities, reduce the carbon footprint, and help clients with their long-term financial goals.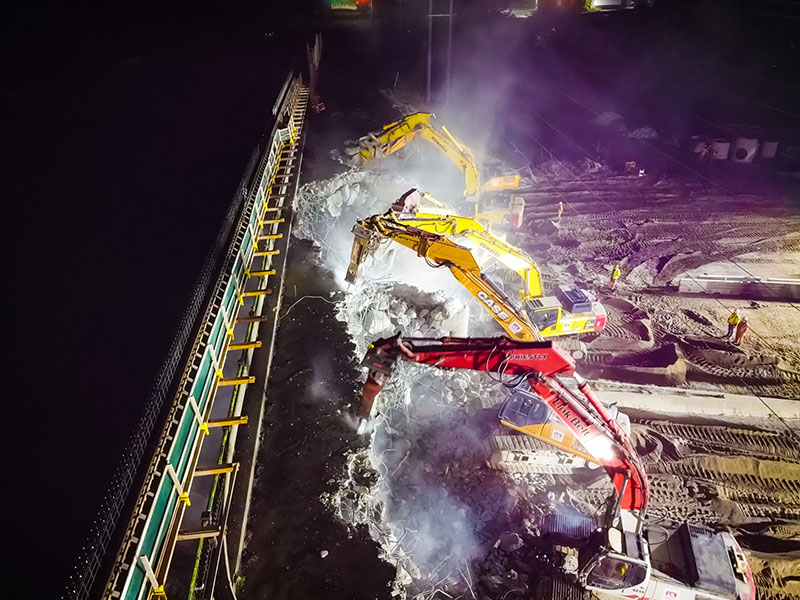 DATA-DRIVEN DEMOLITION SOLUTIONS, FUELLED BY TECHNOLOGY
At PDI, we like projects that are more complex. With in-house engineering expertise and technology, we tackle these projects in a systematic manner, well thought-out and well planned. To showcase our project plans to clients, we use Building Information Modeling (BIM) software such as Revit and STADD.Pro (Structural Analysis and Designing Program) to model buildings and equipment to scale. These tools allow us to bring all architecture, engineering, and construction disciplines into a unified modelling environment, driving more efficient and cost-effective projects. From there, our engineering team can determine how best to demolish, or take down a structure with the largest demolition fleet in the country at their disposal.
EQUIPPED TO DISMANTLE A WIDE VARIETY OF STRUCTURES
Home to one of the largest demolition fleets in the country, the equipment we use and how we use it is a large part of our technological advantage. Our fleet allows us to be more efficient and to take on projects that others can't. We use an OilQuick system that allows us to change attachments on heavy equipment in 30 seconds rather than 30 minutes. We have over 30 such attachments in our fleet. Our mobile mechanic teams maintain and repair our equipment on-site to reduce downtime and increase efficiency.

Whether you're looking to incorporate part of an old building into a new structure or want to demolish a wall for a new addition, PDI has the equipment, knowledge, and experience needed to pull off the hardest selective demolition jobs out there.
PDI staff are equipped with tablets and B2W software on all jobs, saving both time and money. Our Operations teams track project costs, timelines and production to maintain an accurate schedule everyday.