HIGH REACH DEMOLITION CONTRACTORS IN THE US
High-reach demolition services are required to tear down multi-storey structures that standard demolition equipment cannot reach. This is an alternative approach to knocking down a building, and a more environmentally friendly approach because dust and other factors can be more easily controlled. Varying types of large structures present specific tear-down challenges that our estimating, engineering and project management teams account for at all levels of the project.
The structures current condition, potential for hazardous waste (if abatement is required) as well as proximity to surrounding public and private spaces are all taken into consideration and accounted for before a project gets underway. This is to ensure the safety of our people on site and the surrounding community.
High-reach excavators equipped with Oilquick couplers and various attachments are used for our high-reach projects, as well as cranes. We take this approach because it is safer, faster, more economical, and ensures the safety zone for the crane operator is extended. High-reach equipment has modernized demolition, so it is no longer necessary to use excavators to trigger a collapse. The result is a quieter and cleaner jobsite.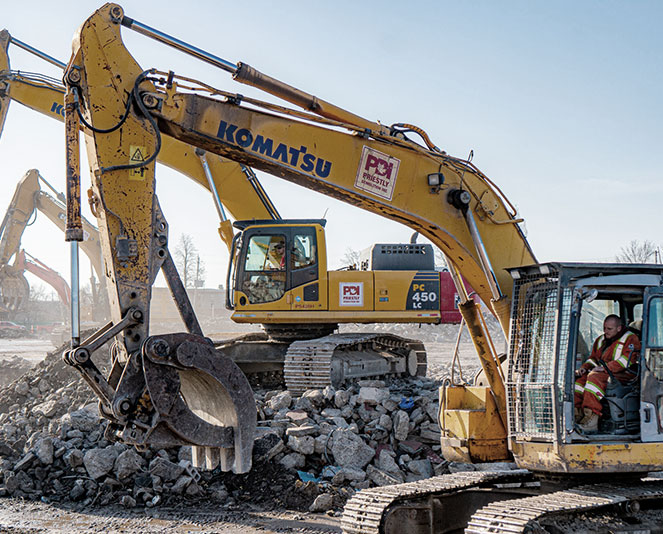 Priestly Demolition Inc (PDI) has the experience required to create safe and time/cost-effective strategies, using the proper equipment operated by skilled demolition experts. We understand that no two demolition projects are alike, and ensure each project begins with careful planning to create tailored solutions based on our clients needs.
A Cleaner, Safer Demolition
High-reach demolition provides a cleaner, safer demolition method with less airborne dust and debris. It also reduces the risk of injury for the demolition crew. The extended boom on a high-reach excavator has greater control in hammering, crushing, and removing concrete and steel from the structure from a great distance, protecting the operator, workers, and the public from falling debris.
Our construction and engineering experts determine what order we need to target each area of the structure in order to mitigate the risk of structural failure during the demolition process.
As a result, we are able to sort and process construction materials faster, removing them from site for recycling. This method also helps reduce costs and allows our clients to move quickly into the next phase once the demolition is complete.
Our team has worked on all types of configurations, in urban settings where space is limited, suburban neighbourhoods where community outreach, communication, dust control and vibration are of great concern, as well as hard to reach rural locations. The team tackles each project using a carefully engineered strategy to ensure success at every stage of the project. Striving to exceed client expectations is built into our company culture.

Is the High Reach Demolition Method Right for the Project?
Height is not the only factor when determining if high-reach demolition is the right procedure to demolish a structure. Our team determines the smartest approach by balancing safety, efficiency, and budget. Some common considerations we take into account when determining what equipment is best suited to the project include;
Proximity to neighbouring buildings and structures
Population density, pedestrian and vehicle traffic
Accessibility to the site
Structural stability
Ability to put safety screens and dust mitigation equipment on site
If we find the structure does not present the best conditions for high-reach demolition, there are several other options to consider. We will inspect the jobsite and then determine which option is best. It is very important to ensure our excavators and other equipment can reach the rise of the structure safely. We also must ensure the ground is stable enough to support the weight of our equipment.
Once our assessment is complete, we share our findings based on the scope of work and provide a detailed estimate and timeline for the project. Our goal is to design the safest, most cost-effective demolition plan, using the highest industry standards and practices to produce the smartest solution.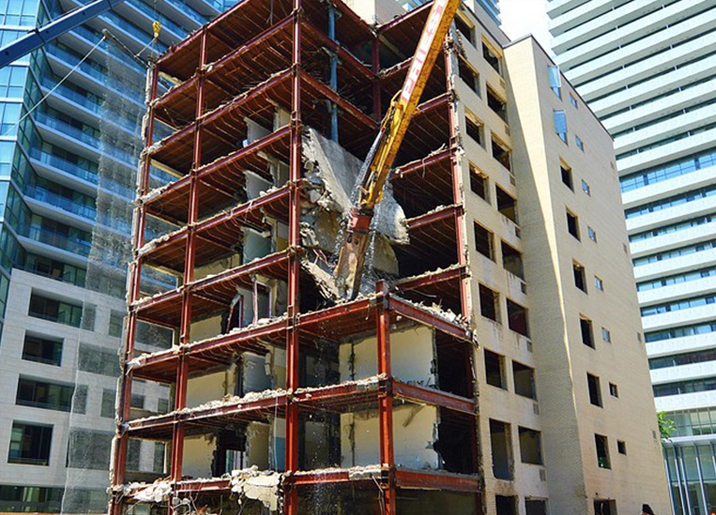 Demolition With Minimal Disturbance
High-reach demolition offers an effective method that is quieter and more precise than other options, while reducing the amount of dust debris produced. There are many advantages to high-reach demolition, including:
Lower Risk involved for higher buildings and structures located in congested areas
Safer for densely populated areas
More Efficient for debris removal, leaving the site cleared so you can move on to the next stage of development.
Less Invasive, Less Disturbance to the immediate and surrounding area during the dismantling process
Quieter Process with less vibration for residential areas, businesses, and services.
Our high-reach demolition service is the ideal solution for the precise demolition of tall structures.
Bridge Demolition Projects